Unfurl The Ancient Wisdom Inside
Whispering Forest Fern Leaf Earrings
Regular price
$110.00 USD
Regular price
Sale price
$110.00 USD
Unit price
per
Sale
Sold out
Free Shipping

We pack and ship all orders ourselves from our studio in beautiful Vancouver, BC. If we receive your order by 12pm PST, we usually ship it to you that day. Otherwise it will ship on the following business day. Find out more about our various shipping options
Hassle Free Returns

If you aren't happy (for any reason) with what you've purchased from Morning Moon Nature Jewelry, you may return it to us in like-new condition within 30-days of purchase and we'll process a refund for the full purchase price of the item(s) being returned. Read about our legendary No-Hassle, Happiness Guarantee
Happiness Guarantee

We are passionately proud of our craftsmanship and the quality of our jewelry, we hold ourselves to an incredibly high standard of design and quality. We have seen thousands of happy customers over the years ditch their other jewelry because they have fallen so hard in love with Morning Moon. We're sure you will love it. 

If you aren't happy (for any reason) with what you've purchased from Morning Moon Nature Jewelry, you may return it to us in like-new condition within 30-days of purchase. Find out more here
Earth Friendly

We believe it is not only possible to tread lightly on our planet but that it is our duty to do so. 

In a nutshell, we are a carbon-neutral, living-wage company that is very close to being zero waste and we plant a tree for every piece we sell (and we didn't just go out an pick any old plant-a-tree company, we audited them carefully read more about our partnership with Eden Reforestation.
Elevate Your Style with Our Showstopping Whispering Forest Fern Leaf Earrings Worn by Actress Simone Kessell on Showtime's Hit Series Yellowjackets
Amy Parris, Costume Designer for SHOWTIME TV approached Kate looking for jewelry that the beautiful and complex character Lottie (played by Simone Kessell) would wear in their wildly popular series, Yellowjackets. These pieces are from that collection!
About our Handmade Whispering Forest Fern Leaf Earrings
These Handmade Whispering Forest Fern Leaf earrings are a timeless symbol of Reverie. Sincerity & Magic.
These handmade fern leaf earrings are beautiful on absolutely everyone we've seen them on.  With their lovely gentle curve they exude strength & delicateness in equal measure. 
Using traditional lost wax casting methods, these fern leaf earrings were cast from a tiny fern frond lovingly gathered in a magical clearing in one of British Columbia's many rugged West Coast Forest trails. 
One of the most popular pieces in our entire collection of Nature Jewelry. 
Wear these Fern leaf earrings to remind you of the ancient wisdom deep within you, always unfurling.

Incredible quality & craftsmanship - this beautiful nature jewelry is intended to be handed down for generations to come. 
FEATURES & BENEFITS
🌍 One of a kind -  Our pieces are meticulously handcrafted from textures sourced from nature, making them as unique as your own fingerprints.
🌟 Ethically Handmade - Sustainable and utterly one-of-a-kind, this jewelry is more than adornment—it's a statement of your values.
🌿 Connecting you to Nature - From forest-inspired earrings to seashell pendants, our pieces carry the magic of nature so you can have it with you wherever you go. 
🌳  Building a Better World - Our commitment goes beyond crafting beautiful jewelry. We're a carbon-neutral, living-wage company and we plant a tree for every piece we sell. 
💫   Wearable comfort, exceptional quality, and timeless elegance — our jewelry is designed to be your everyday companion. 🌊 Water-resistant for your adventures, meticulously crafted for durability, and meant to be passed down for generations.
🌟 Unmatched Versatility - Equally at home with a pair of jeans as with a wedding dress, our pieces adapt effortlessly to your style.

🌿 Easy Care—Love how easy it is to care for our organically textured jewelry? Check out our Free Jewelry Care Guide and keep your pieces shining beautifully for years to come.
🔍 Durable & Lasting—Rigorously tested for durability, each piece is a guarantee of longevity. Invest in jewelry meant to stand the test of time.
Share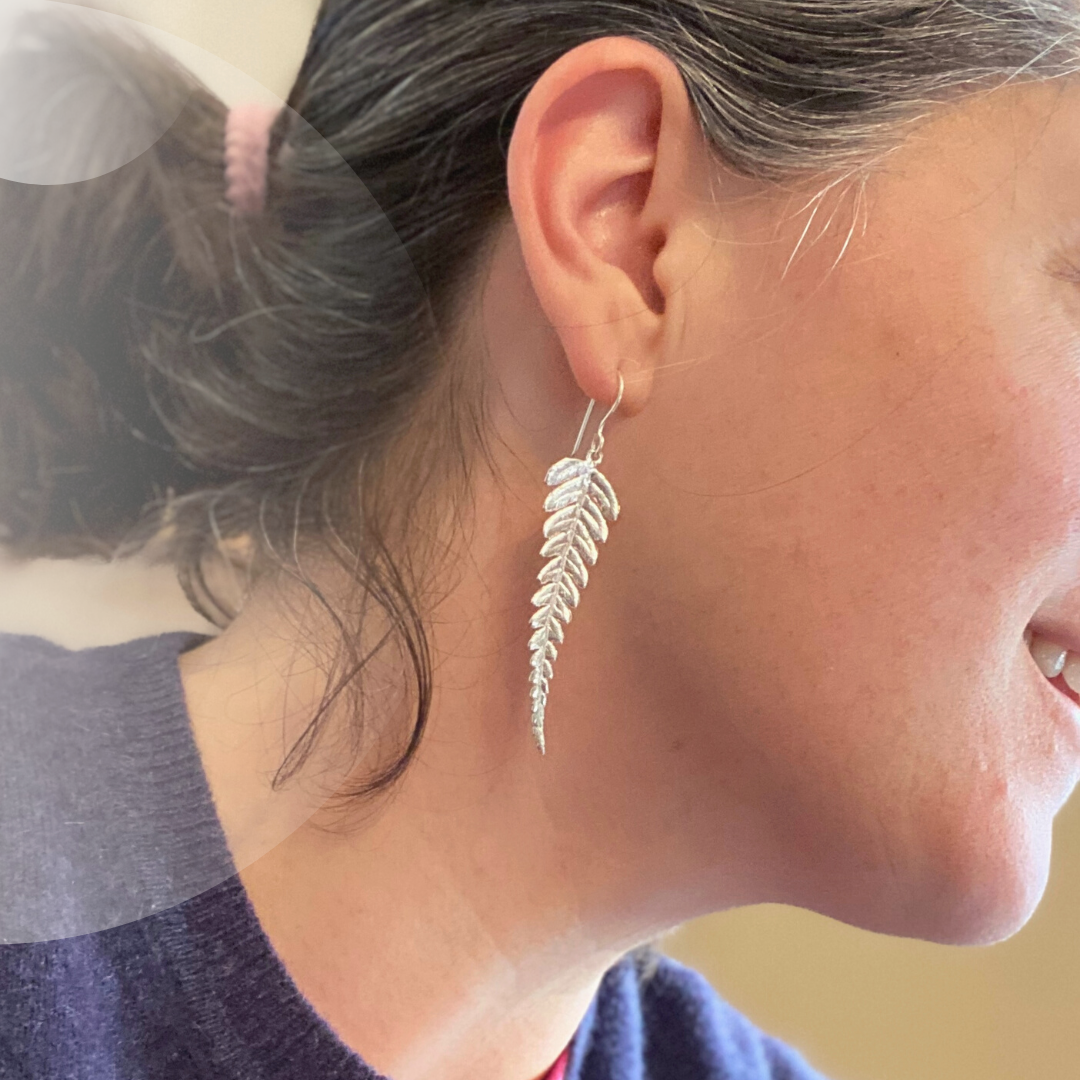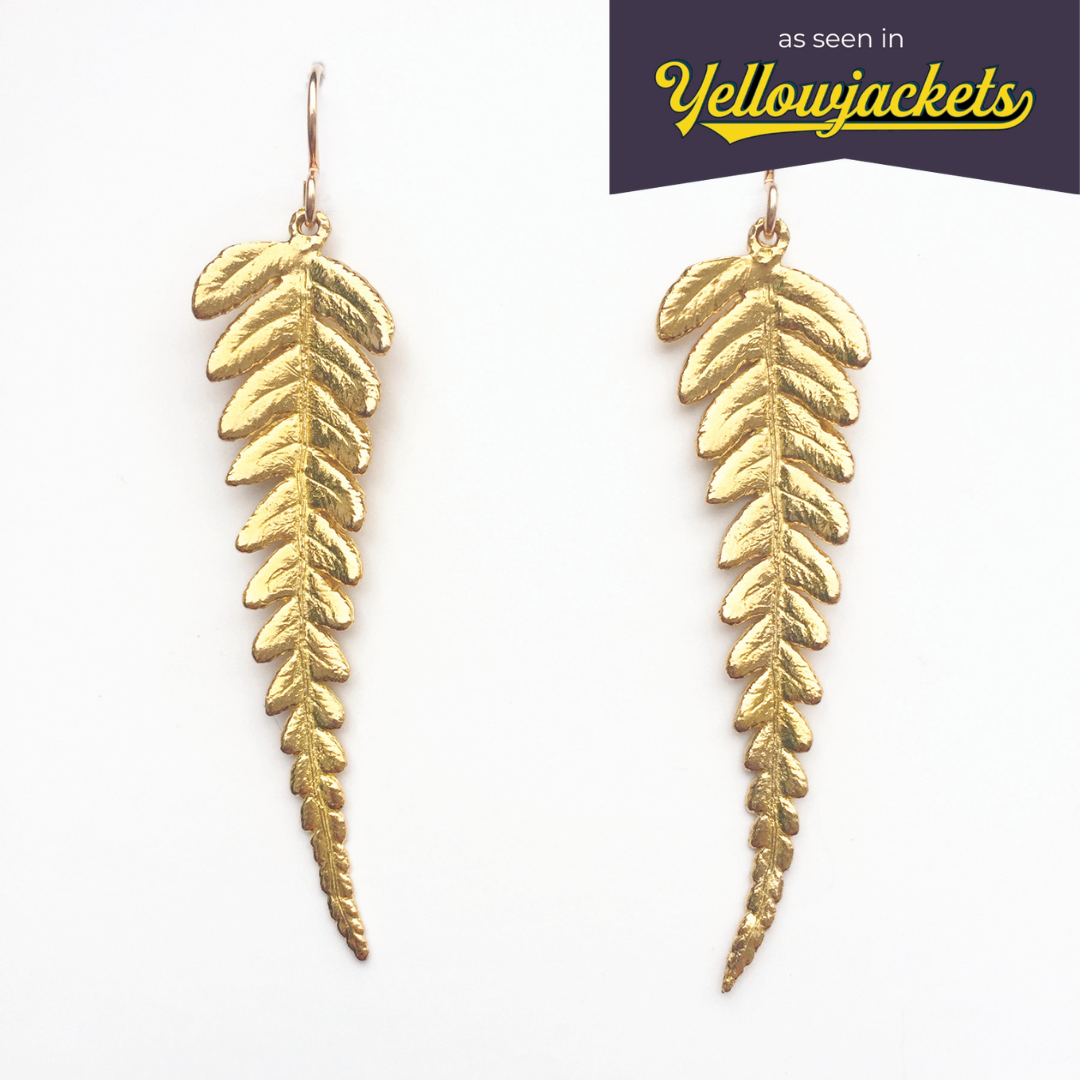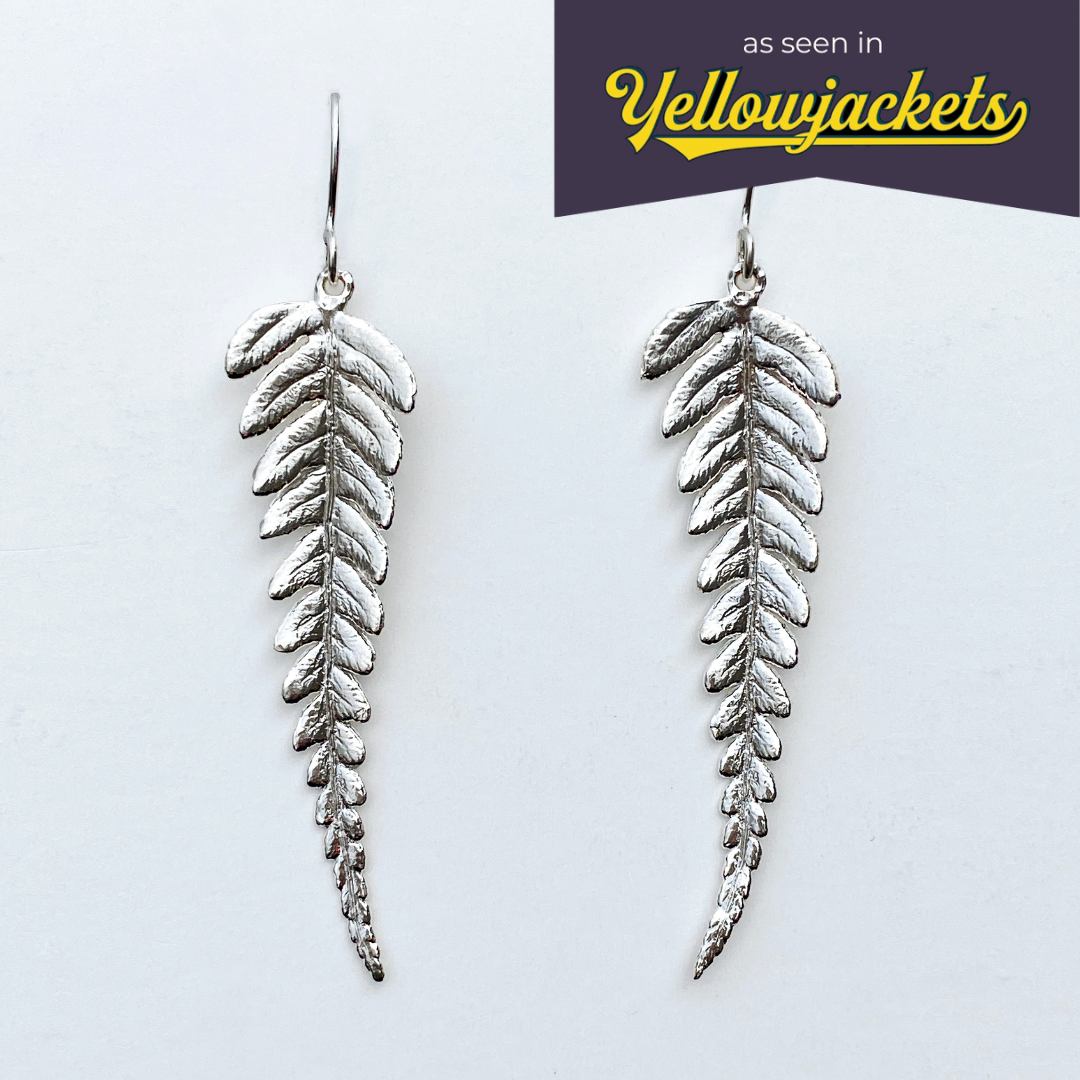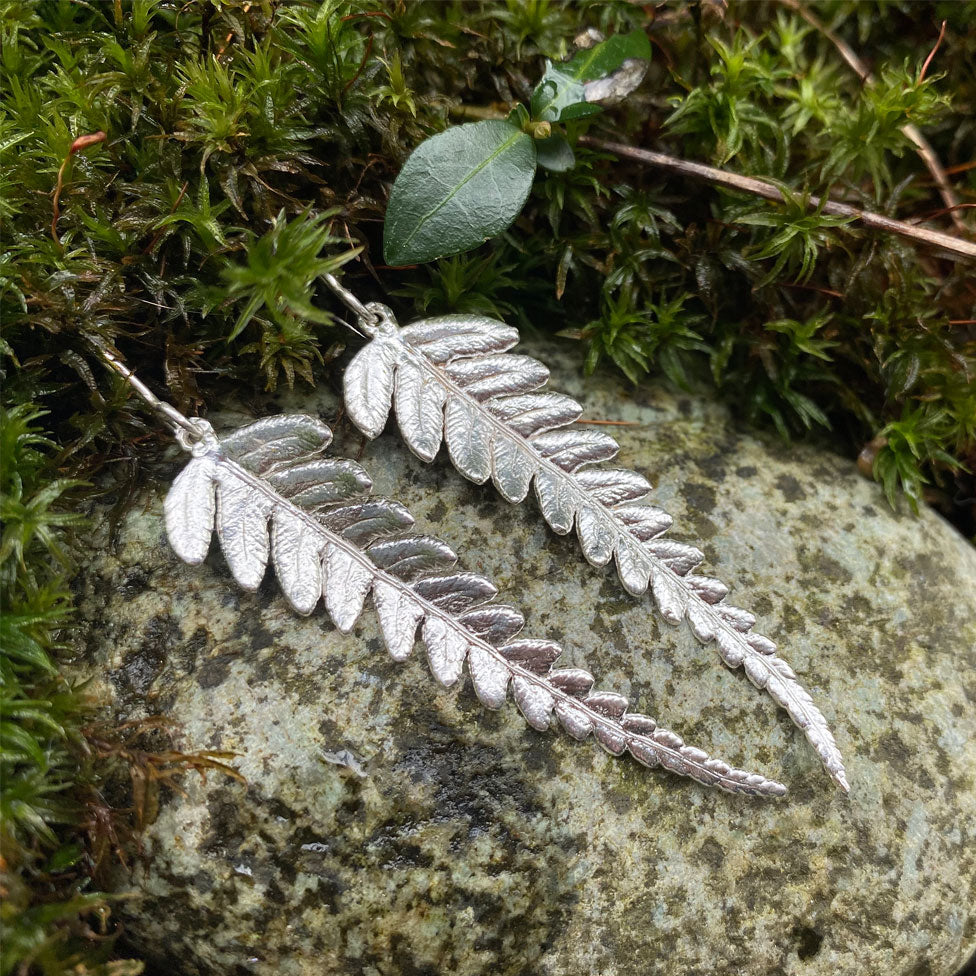 Let customers speak for us
WHAT IS THE SYMBOLISM OF WEARING FERN JEWELRY?
Fern - The Ancient Wanderer 
Scientific Name: Polypodiopsida 
Fern Symbolism: Wear these Fern leaf earrings to conjure a sense of magic & support meditation & imagination. 
The energy of these Ferns is a union of Ancient, Primordial Wisdom with Present Moment Unfurling.
Read more about Fern Polypodiopsida. 
APRIL
BIRTHSTONE: DIAMOND BIRTHelement: FERN
Fern is your BIRTHelement if you were born in the month of April.

Wear fern as a powerful talisman for reverie, sincerity & magic.
Discover your BirthElement
BONUSES included with this purchase
Beautiful, thoughtful gift wrapping

Opening these special packages is a moment we want you to remember. Whether you are having us send one of these pieces as a gift to a loved one, or treating yourself, you'll love how we thoughtfully gift wrap each piece.
Elemental Storycard outlining the symbolism of the piece

Each piece comes with a beautiful card outlining the symbolism of your new piece. (These are so popular we created a full deck of our Elemental Story Cards available for purchase here)
We'll plant a tree for you

We believe it is not only possible to tread lightly on our planet but that it is our duty to do so.

We are proud to partner with Eden Reforestation to PLANT A TREE FOR EACH PIECE of jewelry we sell! Read more about our sustainability initiatives
All your questions answered
What is it made from?

Morning Moon Handmade Nature Jewelry made from the finest materials available today. Our Silver pieces are 100% Sterling Silver and our Golden Collection is made with Bronze, Brass & 14k gold chains. 
Will it tarnish?

One of the best ways to care for your handmade sterling silver jewelry or handmade bronze jewelry is to simply wear it often!

A wonderful feature of nature inspired jewelry is that it is rich with organic textures and shapes. This can make it hard to polish with conventional silver polish, however artisan jewelry is not like typical jewelry in that it is intended to have that handmade, warm, organic patina feel to it. 

Wearing your pieces often is the best way to care for them and prevent tarnishing. However various air conditions and natural elements can affect the lustre of bronze and sterling silver over time.  Find our care guide here
What are the earring hooks made from?

We only use high quality, hand-forged Sterling Silver hooks on all our earrings. Hooks for pieces in the Golden option are Gold-filled (Sterling Silver core) and will not tarnish.
Do the necklaces come with chains?

Yes!

Each pendant includes an 18", fine Italian-made, solid Sterling Silver chain that has been selected and finished to highlight and complement the pendant.

Silver pendants include naturally coloured Sterling Silver chains, while Golden pendants come with 14k gold-plated Sterling Silver chains.

Check out this helpful 45 second video tutorial on how to fasten your chain clasps quickly and easily
What if I don't love it?

We are passionately proud of our craftsmanship and the quality of our jewelry, we hold ourselves to an incredibly high standard of design and quality. We have seen thousands of happy customers over the years ditch their other jewelry because they have fallen so hard in love with Morning Moon. We're sure you will love it. 

If you aren't happy (for any reason) with what you've purchased from Morning Moon Nature Jewelry, you may return it to us in like-new condition within 30-days of purchase and we'll process a refund for the full purchase price of the item(s) being returned. Find out more about our return policy
Will it turn my skin green?

Nope. It won't and here's why...

Inexpensive Jewelry can turn your skin green because is made with cheap metals that often include nickel which can discolour the skin (ew).

Our jewelry is always 100% nickel-free and will not discolour your skin. Phewf.
How do I care for my new jewelry?

Our jewelry is simple and easy to care for. Read about how to care for your new Handmade Nature Jewelry in our care guide
Love my gold fern leaf earrings
These were a birthday present to myself and I love wearing them. Gotten compliments whenever I have them on. Beautifully crafted.
so excited to get these
these have been on my wishlist for a long time! so excited to wear these!
delighted with these when they arrived
These are such beautiful earrings. I love how they feel on and I am already getting so many compliments on them. I am in love with this beautiful brand.
these are really wonderful earrings I am so happy I bought them
These earrings arrived quickly and the packaging was lovely, obviously packed with love. the earrings themselves are really great quality and i am happy to buy from a small business. I had a question about my order and kate was super quick to get back to me and was very friendly and helpful. I love these small businesses - there is so much factory produced crap out in the world ,it is really nice to get something that is made by hand. thanks
Christmas gift for my daughter
I got the sterling silver - frosted for my daughter and the earrings look lovely on her. She is graced with a long neck and they just glow against her dark long hair. I plan to get a pair for my birthday.
Morning Moon Nature Jewelry

Extraordinarily handmade nature jewelry featuring actual textures from the wild, using only the finest materials. Available in either Sterling Silver or Golden Bronze, experience how our expertly handcrafted heirlooms-in-the-making will delight your senses.

Our impact, our responsibility

We believe it is not only possible to tread lightly on our planet but that it is our duty to do so. 

We are a carbon-neutral, living-wage company. We're very close to zero waste & we plant a tree for every piece we sell. Read more about our partnership with Eden Reforestation.

How is this jewelry so special?

Our founder developed our unique method inspired by traditional 'lost wax' casting methods (that have been used since ancient times) the result is incredibly detailed handmade jewelry that you won't find anywhere else on earth.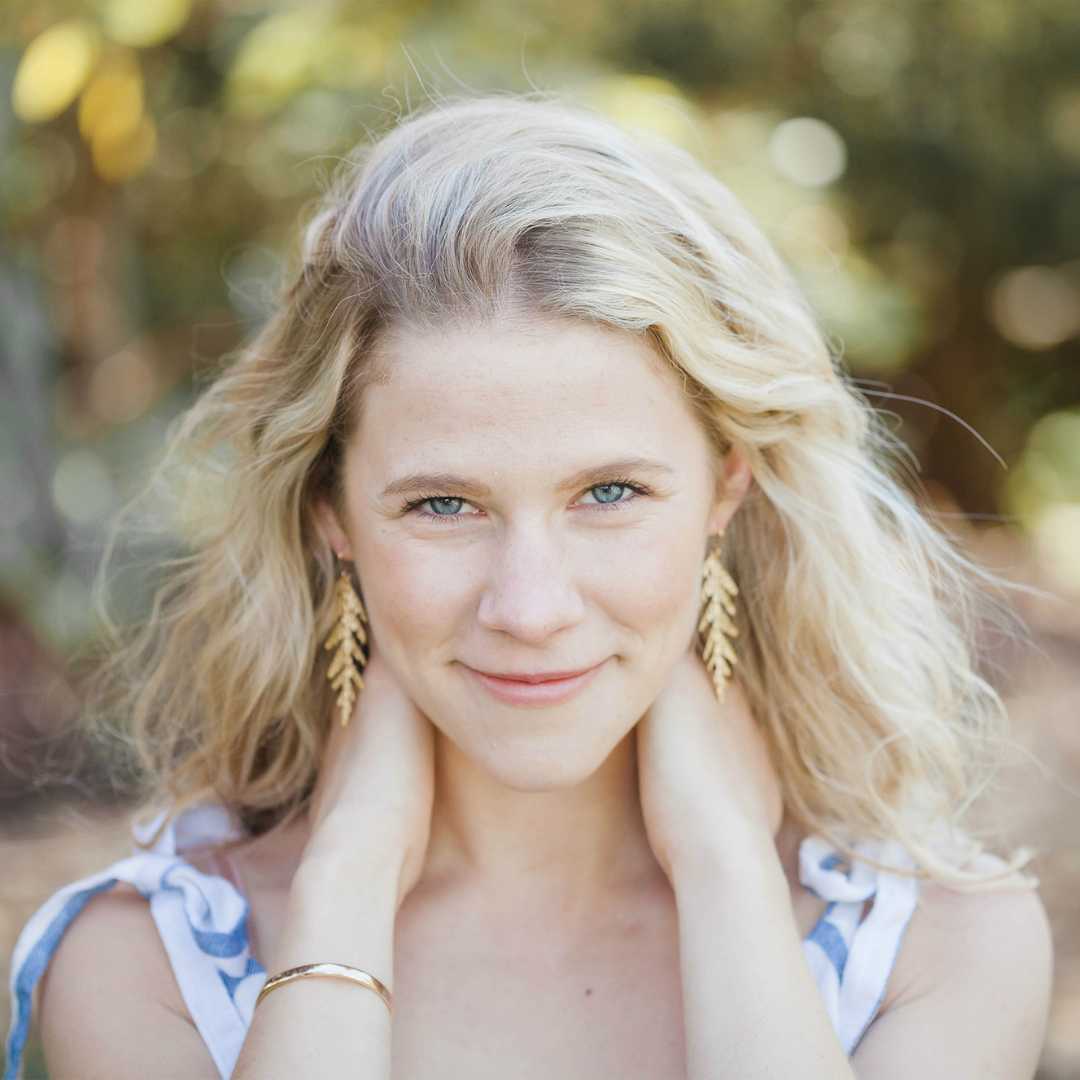 Stay Connected to Your Nature
There is power in nature. And while it is all around us, sometimes with the busy-ness of life, we lose touch with it. Our jewelry gives you a little piece of that magic to you so you it can be with you all the time, no matter where you are.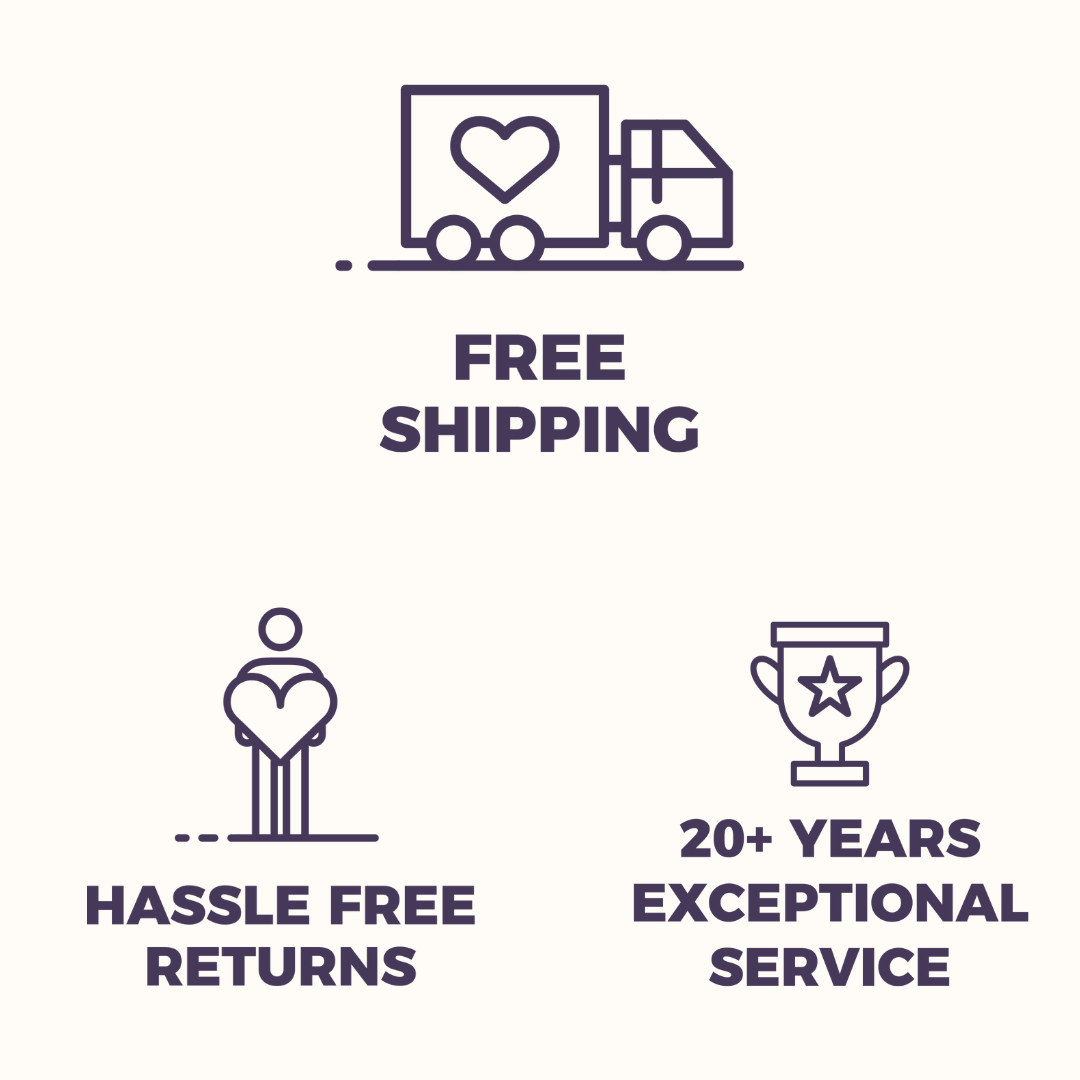 ENJOY FREE SHIPPING, ON US
FREE SHIPPING for all orders over $100 in Canada & US (or with the purchase of any two pieces Internationally) We pack & ship all orders ourselves from our studio in beautiful Vancouver, BC. We can't wait for you to receive your package!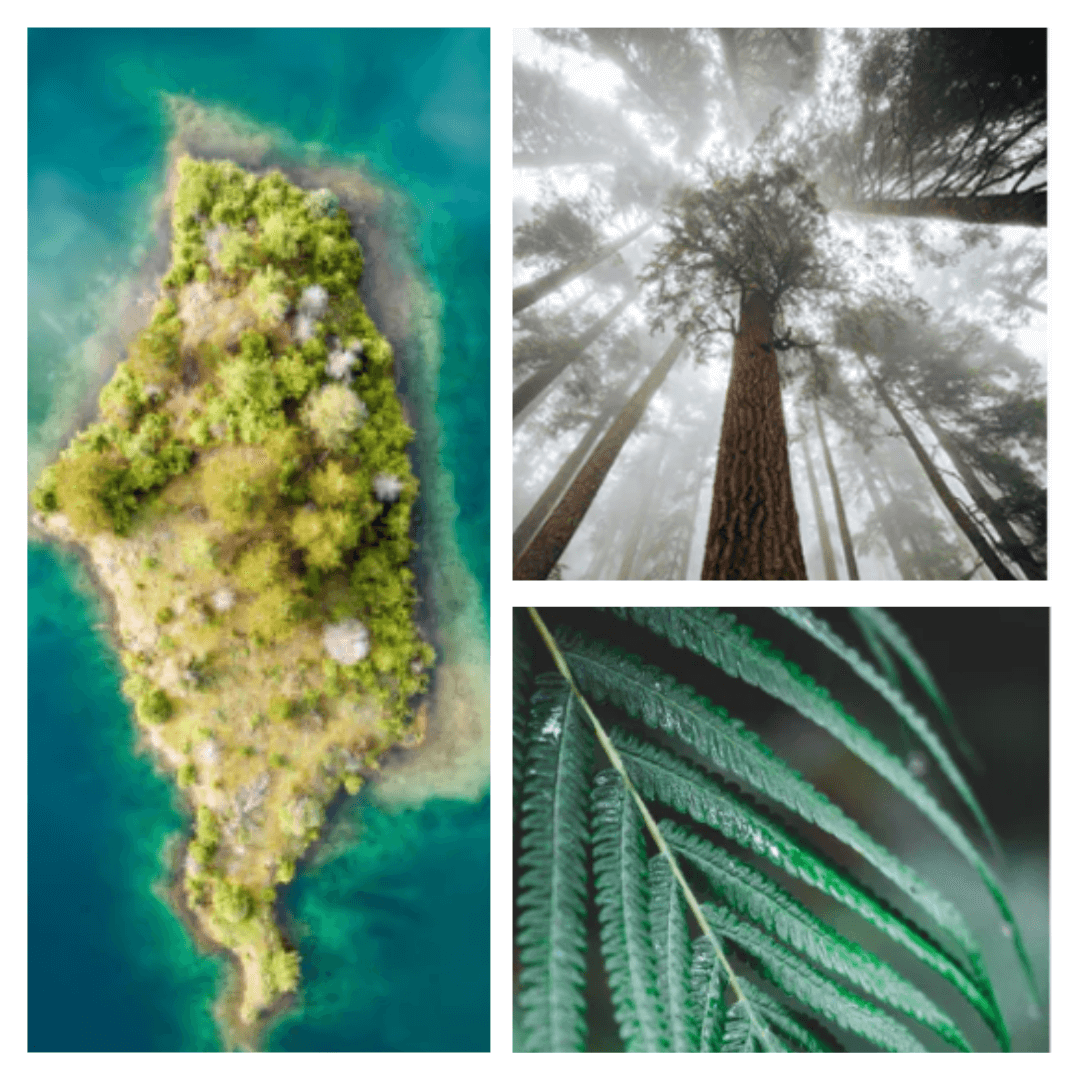 We make the jewelry, you make the difference
We believe it is not only possible to tread lightly on our planet but that it is our duty to do so.
We are proud to partner with Eden Reforestation to PLANT A TREE FOR EACH PIECE of jewelry we sell!
Learn more about Our Impact and our commitment to having a positive impact on Earth!